Summer Touch League 2016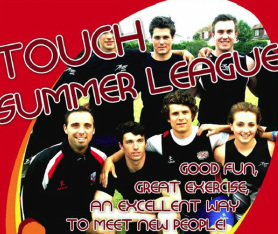 2016
Touch Summer Corporate MONDAY NIGHT League
is a fun league taking place in the summer months which is aimed to bring company teams together to play a sport for everyone in the summer sun. This offers players:
full-length 40 minute games on full size pitches
qualified refereed games throughout – including implementing full FIT rules
Trophies to be won and retained year on year
MORE FOR YOUR MONEY
How do I register?
FOR MANAGERS OF MIXED AND MEN'S TEAMS
- Process for entering a team
If you wish to enter a team this year
STEP 1
you will need to complete the team form as soon as possible (see below).
STEP 2
Once you have completed the form and sent this through, then you will need to register each player with Jersey Touch and pay your team fee of £500.00. This will cover up to 20 players within your team. Click
Here
STEP 3
Playing tops are now a requirement for the league. The tops will need to have playing numbers on the back and will need to be unique to the individual. If you require advice on where to gain cheap playing tops then please get in touch at email:
jerseytouch@hotmail.co.uk
FIT rules will apply and can be accessed at
here
ELITE THURSDAY NIGHT LEAGUE - For players wishing to play high level Mixed and/or Men's League
Elite Touch will take place on Thursday nights. This will include a Men's league and a Mixed League. If you wish to register to your team or enter as an individual and gain support in finding a team (or teams) then please register via this link and pay your £45.00 through our electronic payment method
https://race-nation.com/jersey-touch-rugby-summer-league-2015
Your £45.00 now buys you:
Access to free pre-season coaching from Jersey Touch on Monday nights through the month of April at St. Peters School playing fields from 13th April – 27th April.

Entry to the summer elite league. Without registration you will not be allowed to play. Prior to each game your manager will be required to enter a team sheet. No registration – no play!

Minimum of 8 week league

Eligibility to play in both Mixed league and Men's league (these will both be played on Thursday nights). Remember to tick the boxes of the leagues you wish to play in.

And access to fun league following on from the summer league throughout July/August.

Access to free island coaching should you be selected for a squad.

When does the league start?

Elite Summer League will take place on Thursday nights from May for up to 10 weeks, 6.30pm – 8.30pm. You will have one game per week which will last 40 minutes (if playing Men's and Mixed then you will have one game per category) on full sized pitches.

Who is this for?

This is for all ages (from secondary school) of players who are keen to play at a high level to continue to improve their game within their team.

This league is suitable for high level corporate teams and any other teams with experienced players.

How do I register?

When you click on the link below you will be registering as an individual. This can be for Men's and Mixed. The cost is £45.00 per player (Under 18s is £30.00) and this enters you into Men's and/or Mixed and automatically makes you eligible for Superleague in July.

If you are the team manager you will need to register two referees and ensure all your players register at this link HERE

DEADLINE FOR ENTRIES IS 4TH APRIL 2016